Sunday, July 27, 2014
Slytherin wasn't the only founder to leave a concealed chamber at Hogwarts— before her death, Helga Huffelpuff created a secret room which would help all students, regardless of house affiliation or purity of blood. It's been called many things throughout the centuries; today it's known as the Room of Requirement. 

HEADCANON ACCEPTED
Did they ever reveal how Captain America was thawed? Because I'm picturing a bunch of Shield agents with hair dryers and I don't think that's quite right.

I don't think they'd want to…
How does being a fan of Broadway even work for people who don't live in New York? like, are you guys ok?

No. No we're not.
A human getting pissed at their vampire boyfriend so they put in a silver sterling tongue stud and bracelets and earrings and their vampire boyfriend is just standing five feet away like "babe. c'mon."
Saturday, July 26, 2014
"
I'm not really known for having a way with words.
"
Burt Hummel, "Furt"
LOL
(via nadiacreek)
Sure, Burt…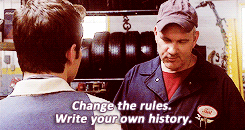 (via nadiacreek)